Great white sharks are among the ocean's most majestic inhabitants, there's no denying it. Still, let's be honest here, few of us would ever consider coming anywhere near them.
Then again, there are also some people who seem to love and adore being close to these predators. People like Melissa Naomi, who on YouTube likes to call herself the AussieBlondeAbroad.
This Monday, the adventurer shared a video she shot while cage-diving off the coast of Cape Town in South Africa. You can find it below if you have a couple of minutes to spare and feel like checking it out.
Be warned though: if the mere thought of shark gives you goosebumps, you might want to skip it. Or at least have some pandas photos close at hand to look at and calm yourself down once you're done watching it.
The footage is kind of, sort of scary
The video shows Melissa Naomi and other shark enthusiasts cage-diving among great whites. It all starts innocently enough. The divers slip into the cage and then it's time to go about exploring the ocean.
They use bait to attract great white sharks, and soon enough, they are surrounded by them. Some grab the food quite gently and then swim away. Two of the sharks, however, prove a bit too enthusiastic about the free meal.
They quickly swim towards the divers, grab the bait and then fail to steer and change course in time. The result is they ram into the cage, giving it a good shake and sending adrenaline coursing through the divers' body.
Then, the hungry great white sharks simply swim away, not a bruise on their body to testify to their harsh encounter with the metal cage.
It might look positively terrifying, but the AussieBlondeAbroad says she very much enjoyed the experience. "Oh WOW! Such an incredible indescribable and beautiful Experience! Ahhh Cape Town, You Are AMAZING," she writes in an Instagram post.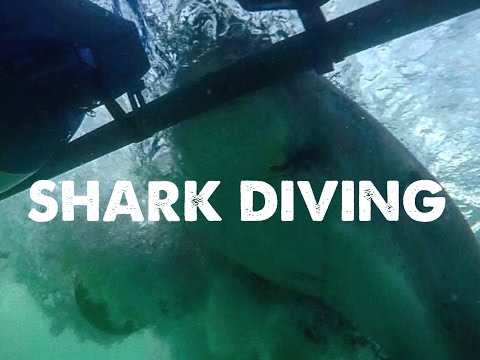 Play Video
Fishy ? GUESS WHO WENT SHARK CAGE DIVING TODAY!!!!! Oh WOW! Such an incredible indescribable and beautiful Experience! Ahhh Cape Town, You Are AMAZING! 🐟

A photo posted by Melissa Naomi (@aussieblondeabroad) on Oct 17, 2015 at 2:13pm PDT